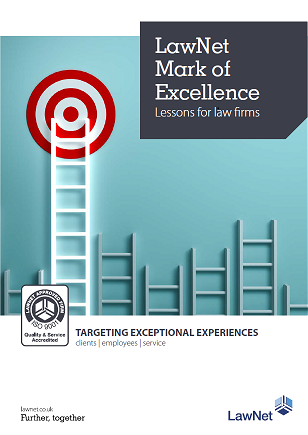 08 Jul

Mid-size law firms embrace big ideas for future

Findings suggest firms who collaborate are more likely to innovate

Mid-size law firms are looking for big ideas and are focused on strategy, according to research carried out by LawNet, the collaborative non-profit network.

Research participants said they were focused on the big issues in their businesses and ranked opportunities to learn the latest leadership thinking from outside the legal sector as most important to achieving that.

Other top-five factors reported for the future success of firms were leading-edge approaches to financial management, quality processes and risk management culture.  The findings also revealed that being open to collaboration can generate big gains.

"Law firm leaders can be cautious about sharing their ideas and concerns with peers in other firms," said LawNet chief executive Chris Marston, "but being open-minded about the opportunities offered by collaboration can make a meaningful difference in terms of thinking and attitudes.  We see some exciting examples across our network, with firms working together in areas from robotics through to HR."

He added: "Openness encourages reciprocity. I can think of a case in our network of one firm sharing their experience in developing career pathways backed up by a competency framework, and the receiving firm sharing their ideas and experiences of outsourcing in return.  Our members know they can speak very openly with their network peers in a non-competing environment, but there is a real opportunity for greater co-operation in the sector generally."

The findings were drawn from a research project undertaken with LawNet's 70-strong membership during February and March 2020, as part of the network's audit process.

Drilling down, the findings were analysed by size of firm across the network.  This showed that despite narrow variations in the ranking at different turnover levels, the top five factors remained constant across all the firms surveyed.

Explained member engagement and strategy director Helen Hamilton Shaw: "Our members tend to be in the £2m to £25m turnover range, which gives a coherent group for research purposes in a sector ranging from sole practitioner to Magic Circle, but it's important for us to understand variations across the membership to tailor future support.

"There were some differences in ranking of future priorities, reflecting capacity of different size firms, but it was interesting to see the consistency across the network, with every size of firm saying that embracing big ideas was vital.

"Opportunity may play a part in that, as activities like our annual conference bring in international-class speakers from across the corporate world, beyond anything most firms could access otherwise.   This often takes participants out of their comfort zone, introducing them to ideas that are not yet mainstream, but we find everyone welcomes the learning, even if only to understand what is coming."

ENDS

 

For further information, please contact:

Press information:
Maggie Taylor, Prima PR & Marketing
Direct line: 0207 846 0096  Mobile: 0797 3767 602 Email: maggie@primapr.co.uk

Helen Hamilton-Shaw, Member Engagement & Strategy Director, LawNet
Direct line: 01926 834622             Email: hhamilton-shaw@lawnet.co.uk

 

Notes to Editor:

About LawNet

LawNet was established in 1989 to enable a collaborative, mutually-owned national network where independent law firms could access big firm resources and benefit from collective purchasing, shared knowledge, best practice and expertise. 

All members share a commitment to excellence and must achieve and maintain LawNet's own ISO.9001 standard and the associated Mark of Excellence in client service.

There are currently some 70 member firms, ranging from £2m to £25m in turnover, giving a combined aggregate turnover in excess of £300m, equivalent to a UK Top 15 law firm.

Independent research shows LawNet is most highly valued by members for delivering in six key areas – learning, networking, PII, practice support, marketing, risk management and compliance.  It currently places over £1bn worth of PII cover alone for members each year, which helps stabilise premiums for firms.