16 Nov

Innovation and collaboration drive independents

Click here to download a high-res version from Flickr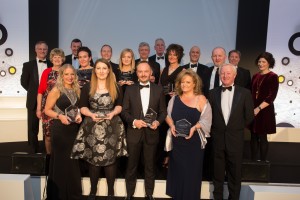 Pictured (left to right):
Back row: Nigel Maud, Hart Brown; Robert Jobson, Gardner Leader LLP; Oliver Ray and Martin Whitworth, Gotelee Solicitors; Phillip Hoskins and Michael Pace, Andrew & Co Solicitors; Ed O'Rourke, Ashtons Legal; Helen Hamilton-Shaw, LawNet
Middle row:  – Jenny Buchanan, Gardner Leader LLP; Melanie Carroll, Mullis & Peake LLP; Rebecca White, Hart Brown; Helen Bell, Andrew & Co Solicitors; Duncan Jackson, Buckles Solicitors LLP
Front row: Claire Hughes, Ashtons Legal; Danielle Collett-Bruce, Hart Brown; Derek Rodgers, Gardner Leader LLP; Colleen Gostick, Buckles Solicitors LLP; Chris Marston, LawNet.
Independent law firms are proving they have what it takes to chase off challengers and disruptors. 
Top performing firms and outstanding individuals from across the legal community gathered to celebrate the ninth annual LawNet Awards, which recognise innovation and strategic success.
"We had a record number of submissions and a highly competitive field of entrants, all of whom demonstrated real vision and depth in delivering solutions with a proven business impact across the categories," said LawNet chief executive Chris Marston.
Gardner Leader was named LawNet Law Firm of the Year.  Through a combination of organic growth, strategic alliances and acquisition, the firm has seen turnover almost double in the past five years.
Said Derek Rodgers, managing partner of Berkshire-based Gardner Leader:  "This marks the culmination of a long term vision, with quite significant growth over the last five years.  We have added new people, invested in new technology, implemented continuous improvement and change management processes, and integrated a couple of acquisitions into the firm.  It's been a lot of hard work and we're very proud to have it recognised with this award."
He added:  "We've been members of LawNet for a long time and know the calibre of the firms in the network, so to win against that competition means a lot to us."
Winner of the Young Lawyer of the Year was Danielle Collett-Bruce of Hart Brown.  Just three years qualified she is already the lead solicitor on varied transactions of significant value and has drawn up licencing agreements used around the globe on high value software contracts.  Hart Brown also collected the Mark of Excellence award for their work in delivering exceptional customer service.
Best Digital Presence went to Gotelee Solicitors for a strategic campaign focused on increasing traffic referrals, tackling negative perceptions of the sector, and creating a strong online personality for the firm.  The analytics-driven campaign has seen overall traffic increased by 84% in three years.
Buckles Solicitors LLP collected the Excellence in Employee Engagement for their focus on relationships to deliver business success, putting employees at the heart of the company. It's already won the firm a place on the Best Companies to Work For national index as well as the Investors in People Gold Standard.
Best Community Contribution  went to Ashtons Legal in the East of England for a unique commitment to its local community, setting up its own Charitable Trust in 2014, as a vehicle to give back to the area.  Since April this year the trust has distributed £12,500, alongside pro bono, facility provision and community involvement by the firm.
And Team of the Year went to the Residential Property Team, Mullis & Peake LLP for all round innovation and best practice.  Successes include business development which saw a new satellite office deliver an immediate return on investment.
Added Chris Marston:  "There is much to celebrate in the sector, despite the pessimism spread by the nay-sayers.  We may be dealing with more regulation, new learning requirements, and constant competition and disruption, but the exceptional successes in this year's entries demonstrate there's plenty of opportunity if firms are prepared to innovate."
He added:   "The peer to peer collaboration and networking between our members certainly has a catalytic effect, raising the bar and helping to grow winning firms."
The award winners:
Law Firm of the Year                      Gardner Leader LLP : Sponsored by Wilkinson Read & Partners
Team of the Year                            Residential Property Team, Mullis & Peake LLP : Sponsored by STL
Young Lawyer of the year             Danielle Collett-Bruce, Hart Brown: Sponsored by Econocom Digital Finance
Excellence in Employee Engagement Buckles Solicitors LLP : Sponsored by Tikit
Best Community Contribution      Ashtons Legal : Sponsored by Landmark Information Group
Best Digital Presence                     Gotelee Solicitors : Sponsored by Conscious Solutions
LawNet Mark of Excellence          Hart Brown : Sponsored by Shopper Anonymous
Most active LawNet member       Andrew & Co LLP
ENDS

For further information, please contact:
Press information:
Maggie Taylor, Prima PR & Marketing
Direct line: 020 7 846 0096  Mobile: 0797 3767 602 Email: maggie@primapr.co.uk
Helen Hamilton-Shaw, Member Engagement & Strategy Director, LawNet
Direct line: 01926 834622 Email: hhamilton-shaw@lawnet.co.uk
Notes to Editor:
About LawNet
LawNet was established in 1989 to enable a collaborative, mutually-owned national network where independent law firms could access big firm resources and benefit from collective purchasing, shared knowledge, best practice and expertise. 
All members share a commitment to excellence and must achieve and maintain LawNet's own ISO.9001 standard and the associated Mark of Excellence in client service.
The combined income of the firms comprising LawNet is currently in excess of £250m – equivalent to a UK Top 15 law firm – with members ranging from £2m to £20m turnover.
Independent research shows LawNet is most highly valued by members for delivering in six key areas – learning, networking, PII, practice development, marketing, compliance.  It currently places over £1bn worth of PI cover alone for members each year, which helps stabilise premiums for firms.
Twitter: @LawNetUK