09 Nov

Independents show off their game-raising tactics  

Click here to download high res version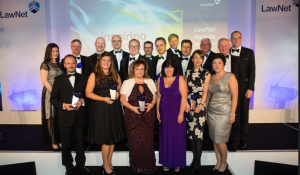 Click here to download high res version from Flickr.  Full caption at end of press release
Independent law firms have been showcasing their inventive side, with strategies designed to keep them out in front. 
The successes were highlighted at this year's LawNet awards, and leading the winners was Buckles Solicitors LLP with Law Firm of the Year.
Peterborough-based Buckles embarked on an ambitious development strategy, based on excellent client service and investing in their people.  In the last year it has seen the firm grow to employ 57 lawyers and achieve gross fees of £6.7m, with independently assessed overall client satisfaction scores of 95%, a listing in the Best Companies to Work For and securing the elite Investors In People Gold accreditation.
Said Colleen Gostick, managing partner of Buckles:  "We're thrilled to win, particularly given the quality of the competition in LawNet.  Within the business we're always focused on the next thing, so it's great to reflect on what's been achieved and celebrate the success with the people who made it happen."
Alexandra Savage of Warner Goodman LLP in Hampshire was named Young Lawyer of the Year having earned the firm's fastest-ever promotion from trainee to Associate, in just three years.
Team of the Year went to the Later Life Team at Rix & Kay Solicitors LLP Solicitors. Their holistic approach to later life planning has created a unique team, bringing together legal services with personal care coordinators.  This, combined with a research-based thought leadership campaign, has brought them to the forefront of the fast expanding care sector market in the South East.
Matthew Arnold & Baldwin LLP secured Best Digital Presence for a multi-channel approach including internal and external platforms, with results that included a 700% increase in visitor traffic to their website.
Best Community Contribution went to Clarkson Wright & Jakes for a bigger-picture CSR strategy that is putting them at the heart of their local community, with fundraising and skills-sharing that's both supporting their community partners and also boosting staff morale internally.  Initiatives have included making the community more dementia-friendly.
Hart Brown received the Mark of Excellence award, for outstanding performance on LawNet's independently assessed mystery shopping and online client satisfaction measurement.
Chris Marston, chief executive of LawNet, said:   "Once again, the submissions show that independent law firms are ideally placed to demonstrate what it means to be innovative in the legal sector.  That, combined with a commitment to excellence, is what our awards recognise.
"Results like this give real purpose to annual awards.  Our members want to benchmark themselves against other forward-thinking firms. Our awards allow us to recognise the people behind these exceptional initiatives."
He added:  "People sometimes assume that innovation starts at the top in the legal sector, amongst the major multi-national players, but our members consistently demonstrate that they can be more nimble, quicker to react and implement, and because of that they generate outstanding performance as a result."
The award winners:
Law Firm of the Year
Buckles Solicitors LLP : Sponsored by Wilkinson Read & Partners
Team of the Year
Rix & Kay Solicitors LLP : Sponsored by STL
Young Lawyer of the year
Alexandra Savage, Warner Goodman LLP : Sponsored by Econocom
Excellence in
Employee Engagement
Gardner Leader LLP : Sponsored by Tikit
Best Community Contribution
Clarkson Wright & Jakes Ltd : Sponsored by Francis Clark
Best Digital Presence
Matthew Arnold & Baldwin LLP : sponsored by Conscious Solutions
LawNet Mark of Excellence   
Hart Brown
Most active member within LawNet
Gepp & Sons Solicitors
Pictured:  Front Row L – R   Derek Rodgers, Gardner Leade, Alexandra Savage, Warner Goodman LLP, Colleen Gostick, Buckles Solicitors LLP, Linda Smith, Buckles Solicitors LLP, Amanda Mehlin, Clarkson Wright & Jakes Ltd, Angie Law, Clarkson Wright & Jakes Ltd   Back Row L-R : Helen Hamilton-Shaw, LawNet, Nigel Maud, Hart Brown, Michael Rabbett, Buckles Solicitors LLP, Neil Crees, Buckles Solicitors LLP, Nigel Moore, Buckles Solicitors LLP, Steven Payne, Gepp & Sons Solicitors, Richard Phillips, Matthew Arnold & Baldwin LLP, Richard Bates, Rix & Kay Solicitors LLP, James Maxey, Buckles Solicitors LLP, Bruce Hayter, Rix & Kay Solicitors LLP, Chris Marston, LawNet, Robin Evans, Clarkson Wright & Jakes Ltd
ENDS
For further information, please contact:
Press information:
Maggie Taylor, Prima PR & Marketing
Direct line: 020 7 846 0096  Mobile: 0797 3767 602 Email: maggie@primapr.co.uk
Helen Hamilton-Shaw, Director of Services, LawNet
Direct line: 01926 834622               Email: hhamilton-shaw@lawnet.co.uk
Notes to Editor:
About LawNet
LawNet was established in 1989 to enable a collaborative, mutually-owned national network where independent law firms could access big firm resources and benefit from collective purchasing, shared knowledge, best practice and expertise. 
All members share a commitment to excellence and must achieve and maintain LawNet's own ISO.9001 standard and the associated Mark of Excellence in client service.
The combined income of the 65 firms comprising LawNet is currently in excess of £250m – equivalent to a UK Top 15 law firm – with members ranging from £2m to £20m turnover.
Independent research shows LawNet is most highly valued by members for delivering in six key areas – training, networking, PII, practice development, marketing and compliance.  It currently places over £1bn worth of PI cover alone for members each year, which helps stabilise premiums for firms.
Twitter: @LawNetUK