30 Jun

Former apprentice celebrates business success

A former apprentice seized the day when the franchise of the estate agency where she worked came up for grabs.  Backed by her father, Sarah Ballard was just 24 years old when she was successful in her application to run the Bingham branch for Newton Fallowell, the biggest independent estate agency network in the East Midlands.   And two years after taking on the Bingham branch, she expanded to develop a second branch from scratch in nearby Mapperley. 
Now, she's celebrated her successful first year of trading in the Nottingham suburb of Mapperley and has an eye to where she can expand further.

Sarah started at Newton Fallowell Bingham as an apprentice at 18, and in just a few years was promoted to the role of office manager.  So, when the opportunity came to take over the franchise, she decided she was up for running her own business – despite still being in her early twenties. With her father acting as a sleeping partner from the outset, she quickly built on her administrative and managerial experience to grow into the new role.

Said Sarah:  "I put the money together through a mix of my own finances, which I'd been saving for a buy to let property, and some help from my Dad.   I was fortunate to have worked in the business so I had a good knowledge to build on, and also knew that head office would take away a number of potential headaches, such as the payroll, the website, marketing and branding, leaving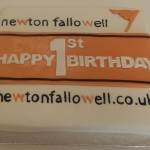 me free to focus on the business.
"And when I decided to open a second branch, the head office franchise team helped with the market research, found the premises and negotiated the lease."
In the market town of Bingham, Newton Fallowell is currently ranked in the top three estate agents in the town, and Sarah puts that down to her team's sales skills and by aiming for outstanding customer service.
"We offer traditional estate agency services, taking the time to talk to buyers and sellers," she explains, "but combine that with the latest technology and tools that come from being part of a major brand."
She added:  "We're also open seven days per week, because we recognise that weekends are when people are free for house viewings, and we employ local people who understand the local market, as that helps sell properties."
And having turned a profit in year one after taking over the Bingham branch, Sarah's aim is break-even for year one in Mapperley, and once it's in profit, she will be looking to make further investments and expand further.  She says:  "Certainly, I'm looking at what happens next and I know there will be economy of scale if I can find the right spot to expand into another area of Nottingham."
Outside the office, the staff all get involved in the local community, whether it's sponsoring the local pork pie competition or providing sports tops for the primary school.
ENDS  493 words