01 Jul

Expansion for local coach company with sights on county crown

EMBARGOED UNTIL 14.00 ON MONDAY 1ST JULY 2013 Download high res versions of pictures from Flickr by clicking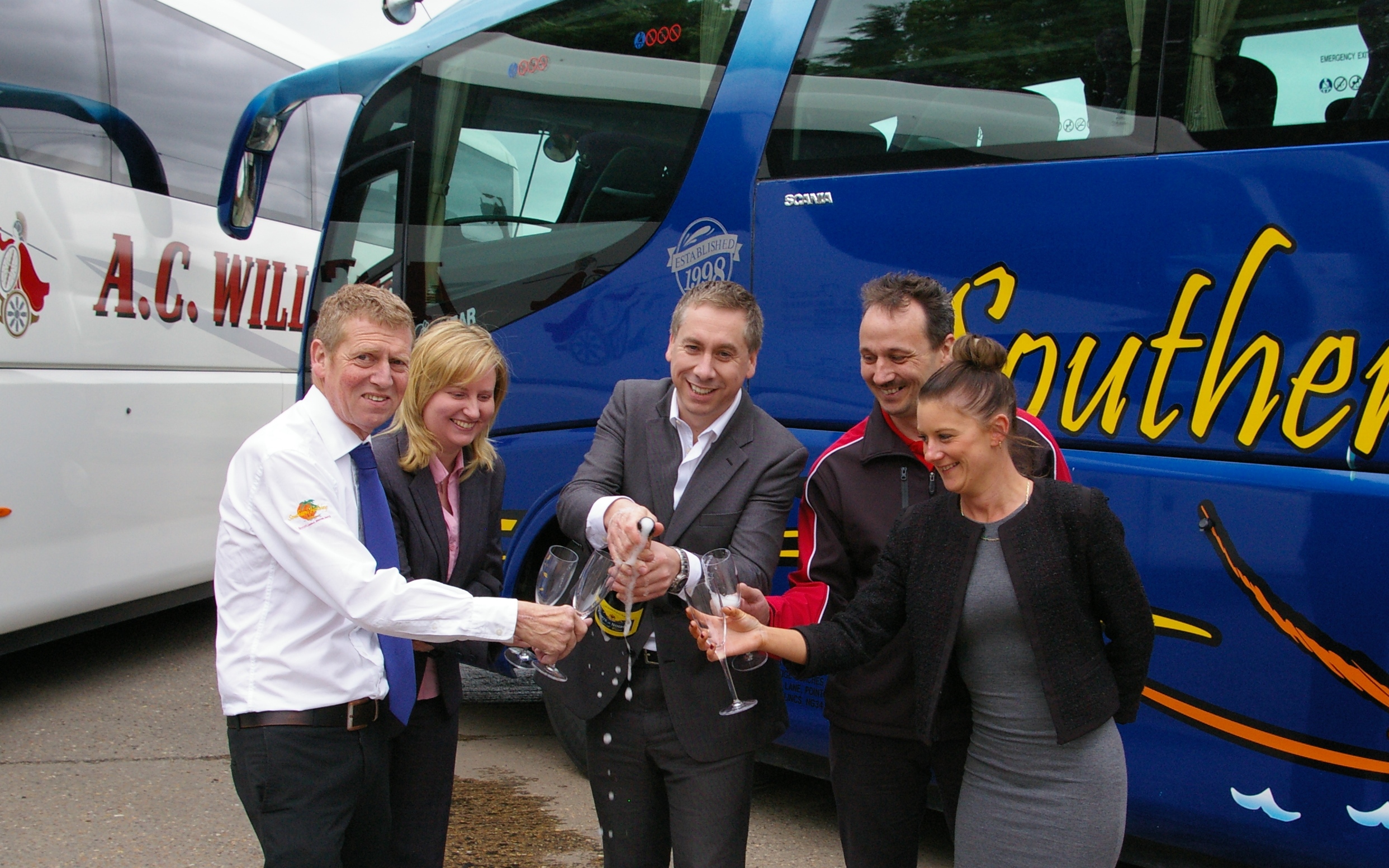 here Picture/interview opportunity with Glen Pratt and staff from Monday lunchtime onwards : please contact Maggie Taylor : Maggie@primapr.co.uk  or 07973767602
Lincolnshire coach operator A C Williams has announced a fifty per cent expansion with the acquisition of neighbouring Southern Holidays, building on a record year which saw company turnover soar by 40%.
And now, the company's chairman says they are setting their sights on becoming Lincolnshire's biggest operator.
Together the merged companies will offer a fleet of nearly 30 vehicles, ranging from executive coaches through to double deckers and wheelchair minibuses and the merger will see the two companies offering a total of 50 holiday departures and over 200 day trips next year, alongside their schools and UK and European commercial contracts.
The entire fleet will be maintained through A C Williams' own specialist workshop, and the company has invested £500,000 in equipment and vehicles this year alone.
"The joining of these well-respected names will provide all our customers with a bigger choice from our top of the range fleet of vehicles. Corporate customers will have greater flexibility from the bigger fleet and wider range of vehicle capacities, whilst our day trip and holiday travellers will find even more choice in types of trip and new destinations,"  said the group's executive  chairman Glen Pratt.
"We want to become Lincolnshire's best and most trusted coach operator and this expansion makes us well placed for future growth," added Glen Pratt, who took over the A C Williams business just over twelve months ago, securing 25 local jobs at the time.   The combined companies will employ 35 people.
For corporate customers, A C Williams has earned its reputation as a major contractor for schools transport, and also has a wide customer base in commercial contracts and private hire. For day trip and holiday travellers, the benefits will be a huge range, with the Spanish specialists Southern Holidays perfectly complementing the UK and continental itineraries of day trips and holidays offered by A C Williams.
Southern Holidays and the expanded fleet will benefit from future investment and expansion through the strong financial standing of A C Williams, which is owned and led by executive chairman Glen Pratt, a successful fund manager.
Directors Leigh and Rebecca Robbins and all the employees of Southern Holidays will continue in the newly merged group.
The intention is that in due course, A C Williams and Southern, both local family-grown companies, will operate all the merged services from the A C Williams site in Ancaster, with Southern staff transferring to the Ancaster offices from their current Sleaford base.
ENDS
Media enquiries: Please contact Maggie Taylor at Prima PR & Marketing: Tel: 01400 251557
Mob:  0797 3767 602         Email: maggie@primapr.co.uk  
Editor's note: Born in Huddersfield, West Yorkshire, Glen Pratt is currently a Partner with a London-based fund management company, where he is a UK portfolio manager. He joined Fidelity, the world's biggest investment house, direct from Nottingham University where he read economics, becoming one of their youngest ever fund managers at 25, and was managing a £2bn portfolio of client funds by his early 30s.
A C Williams was established in Ancaster in 1953, as a motor engineer and agricultural machinery repair business.  Its first contract was transporting three children from a local farm to Ancaster Primary School.  Now the company transports over 600 children every day, as well as providing transport for local football teams, service personnel and academic institutions.  It also runs a year-round itinerary of leisure trips and holidays for local people, travelling throughout the UK and Europe.  They bring to the merger a fleet of 24 buses, coaches and minibuses ranging from 65-seater executive coaches to specially modified vehicles which offer tables or wheelchair access.
Southern Holidays was established in 1998 with the aim of providing value-for-money Spanish package holidays without the hassle of airports.  headed by Rebecca and Leigh Robbins it offers a wide choice of hotels and resort destinations from pick up points across the East Midlands, East Anglia and the South East.